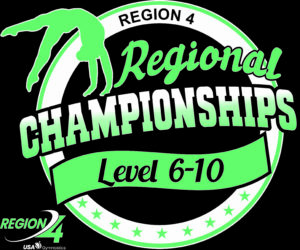 2023 Region 4 Championships
April 14-16, 2023
Levels 6-10
In partner with Midwest Twisters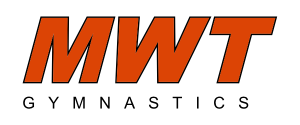 USA Gymnastics Reservations 
Gymnasts:  Register ALL Level 6-10 athletes who may qualify and plan on attending Region 4 Championships in Milwaukee, Wisconsin.  Please register them on USA Gymnastics by March 1st so we can start planning session.  At State Meet, scratch the gymnast that did not qualify.
Do NOT pay for your athletes now.  Please wait until they qualify at your athletes at State meet. 
Coaches:  Register all coaches that could attend.  We know you may not know which coaches will be going but register all that could be coaching.  There will be a $100 per coach onsite registration charge.
Payments Meetmaker Only
We will be using MeetMaker to process payments.  You MUST pay for your athletes on MeetMaker at your State meet.  
If you do not have a MeetMaker account, please create one before your State Meet.   You must have your USAG club number on MeetMaker so it can sync up to USA Gymnastics reservation system.  
Entry Fees –  New for 2023
Level 9-10  $150 per gymnast
Level 8       $135 per gymnast
Level 6-7   $125 per gymnast
Entries after March 26, 2023 have $25 late fee. 
Refunds: Refunds due to illness or injury will be awarded up to two weeks prior to start of the Regional Meet with appropriate physician note.  Refund requests should be sent to RTCC and RWDPCC (DP Requests) or RTCC and RXCC (Xcel Requests). 
Qualifying for Regionals 2023  
The athlete needs to have achieved those scores at their current level.
Level 10  AA 34.00   IES 9.00

Level 9    AA 34.00   IES 9.00

Level 8    AA 34.00   IES 9.00

Level 7    AA 34.00   IES 9.00

Level 6    AA 34.00   IES  9.00
Individual Event Specialist (IES):  Declared to be a specialist prior to entering State Meet.  IES must compete on 3 events or less at State Meet.
Petition Form:  Athletes who cannot compete at State due to illness, injury or who cannot finish competing at State (prior to the 4th event), who want to compete at Regionals, must complete the USAG petition form and email it to Region 4 Technical Committee Chair (RTCC) Windee Weiss at [email protected]  The RTCC must receive an email by the Monday after your state meet. All required paperwork must be emailed within 3 days of the completition of you State Meet (Wednesday following).  Form is below.
Petition gymnasts MUST enter Regional Championships at their State Meet and pay for the petition athletes on Meetmaker.  Please note they are a petition on Meetmaker when you pay. If the petition is not apprived, yoor entry will be refunded by check.
Email your Petition to Regional Championships to new RTCC:  Windee Weiss at [email protected]
Age Groups: Age groups are set nationally by USA Gymnastics for Level 9/10. They will be available prior to state meets and posted on the regional website.
Scores: Live scoring on MyUSAGym.com.
Awards: Individual and All-Around awards will be presented to each Age Group following each competitive session. There will also be team awards given to the top 3 state teams at Level 9 & 10. Awards will follow the rules and policies requirements but will go out 40% in each age group as dictated by the regional board.
Coaches Hospitality:  As of June 2022, the Region 4 Committee voted that no complimentary coaches meals will be provided at Regional Championships.  Due to this decision, we will not be providing complimentary meals for coaches.  There will be concessions available and we are working on food trucks to be in the facility for meals to be purchased.  We will be providing water and light snacks.
Please plan your meals accordingly.  Carry in food is not allowed at the Wisconsin Center.  Food can be delivered to the hotel.  If you do not want to purchase concession food, we recommend to use a backpack. 
Equipment: AAI Elite Equipment and boards at each event Modified Traditional.
Meet Info: [email protected]
Meet Directors: Rick Nelson, Kathy Nelson & Jack Nettesheim
Meet Format: Modified Capital Cup
WESTERN AND NATIONAL QUALIFIERS
Western and National Qualifiers:  ALL gymnasts and coaches qualifying for Western Championships or Nationals MUST be sized for official Region IV Apparel.
*Gymnasts need to be sized immediately following their competitive session.
*Coaches must be sized by 8:000pm on Saturday.
*Sizing area near the Gym Treasures booth.
Qualification to DP Nationals
Top 7 Level 10 All Around in each of the 12 age groups qualify to DP Nationals (minimum 35.00 AA), and compete as Region 4 Jr/Sr Teams. Team members and 1st alternate are outfitted with a leotard and warm-up by the national sponsor in addition to Region 4 apparel.
Qualification to Westerns
Top 7 Level 9 All Around in each of the 16 age groups qualify to Westerns (minimum 34.00 AA), and compete as the Region 4 Jr/Sr Teams. Team members are outfitted with a leotard and warm-up by the national sponsor in addition to Region 4 apparel.
Make sure that your senior gets honored for their years of hard work and dedication.  Please fill out the online form below.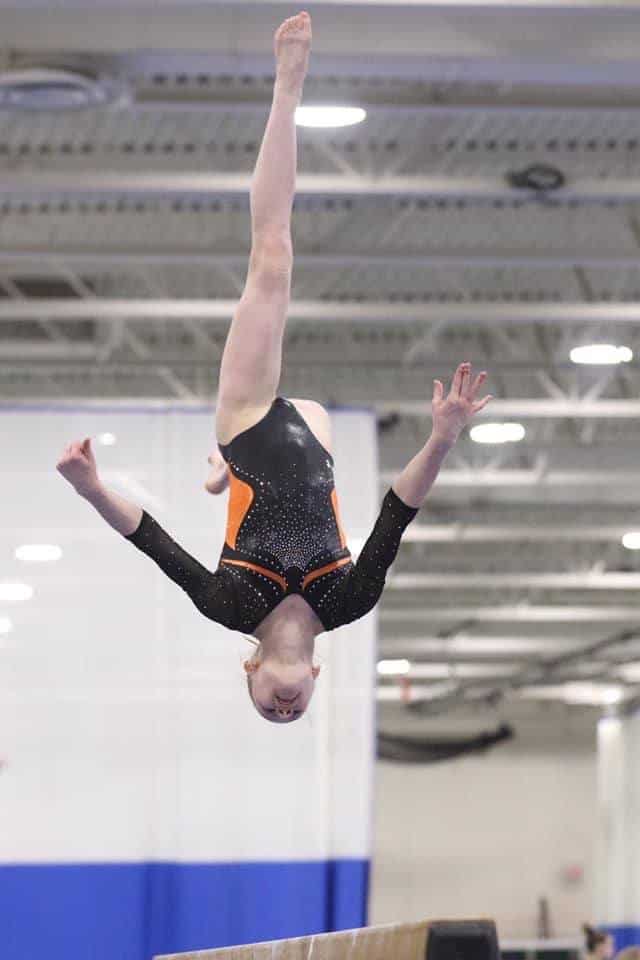 Wisconsin Center
Downtown Milwaukee
400 W. Wisconsin Ave.
Milwaukee, WI  53203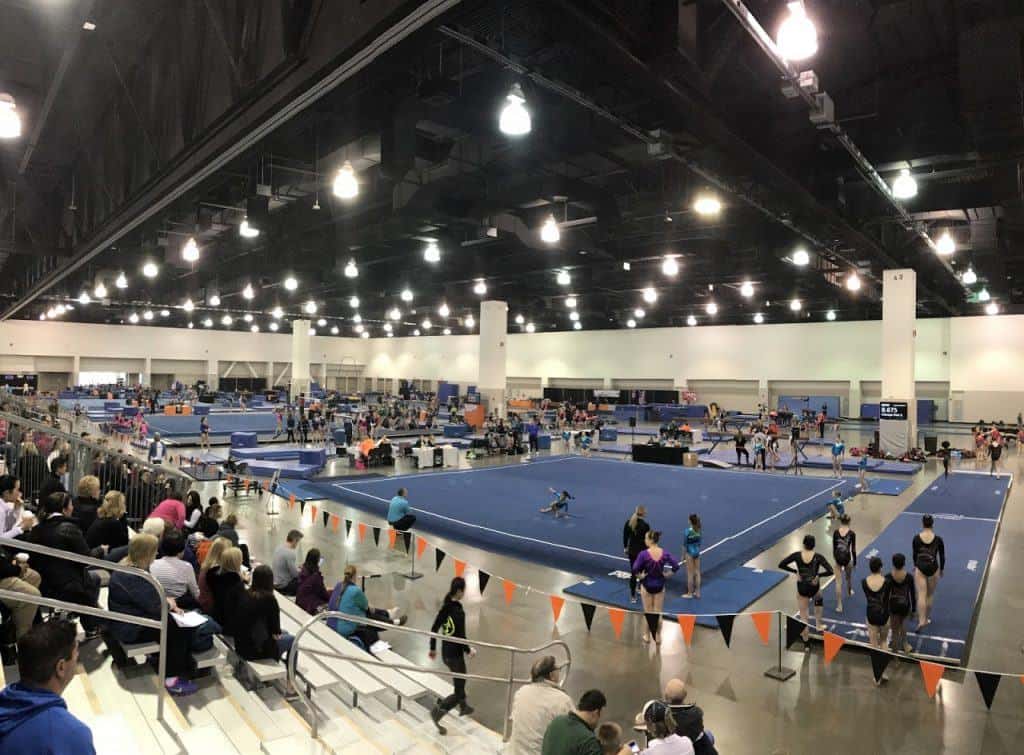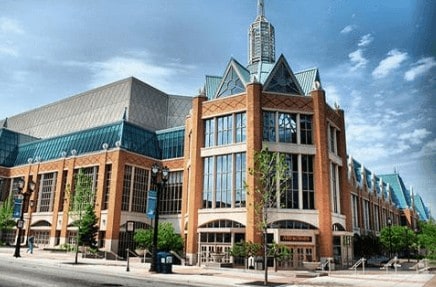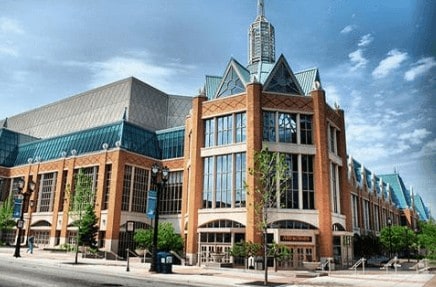 MKE – Milwaukee Mitchell Field
Main Host Hotel – attached to venue
Hilton Milwaukee City Center
509 W. Wisconsin Avenue, Milwaukee, Wisconsin
Additional Hotels
Drury Plaza Hotel Milwaukee Downtown
700 N. Water St., Milwaukee, WI  
.
Cambria Hotel Milwaukee Downtown
503 N. Plankinton Avenue, Milwaukee, WI