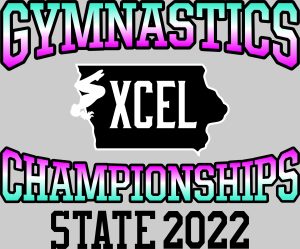 2022 Xcel State Meet Iowa
April 8-10, 2022
Sioux City, IA
In partner with Siouxland Gymnastics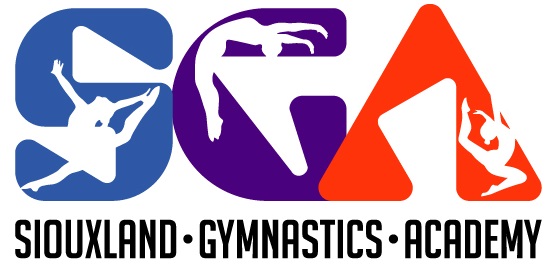 ENTRY
Entry Deadline is March 1st, 2022
Xcel B/S/G $85
Xcel P/D $95
Team $40
Register all athletes who hope to qualify through the USAG Reservation System. Make sure to include event specialists.  Payments will be processed through Meetmaker once your reservation is made.
Do this as soon as possible!!! Send a roster with ALL POSSIBLE STATE QUALIFIERS to Kelly at

[email protected]

.  Please indicate which athletes have yet to qualify and who your event specialists are. 
Any gymnast that is on your USAG meet reservation and your roster will not be charged a late fee as long as fees are paid through Meetmaker on time.
Refunds will be guaranteed by a doctor's note only until April 1, 2022.
Iowa administrative fee: 
One club check should be made payable to Iowa USAG.
Fees are $10/athlete
A separate roster and payment should be mailed to Siouxland Gymnastics, 6521 Palm Valley Dr, Sioux City, IA 51106
Deadlines:
USAG reservations must be made by Tuesday, March 1st.
Rosters emailed to Kelly at [email protected] indicating qualifiers and non-qualifiers by Thursday, March 10th.
All fees paid to Meetmaker by Monday, March 14th. Late fees will be enforced beginning on March 15th.
Qualifying scores:
Bronze and Silver – 34.00       Event specialists – 8.5
Gold, Platinum and Diamond – 32.00   Event specialists – 8.0
Awards:  Medals for 50% of places for Individual Events and AA.
Equipment: AAI Elite Equipment and boards at each event
Admissions:        Accepting Cash or Credit Card  **$1 surcharge for Credit Card
Full Day Pass: Adults 13 and older $20, Seniors & Children 5-12 $10, 4 and under Free
Weekend Pass: Adults 13 and older $35, Seniors & Children 5-12 $15, 4 and under Free
Parking:              FREE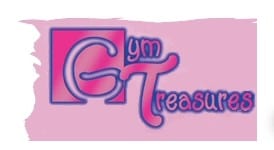 The Arena Sports Academy
4501 Southern Hills Drive, Sioux City, IA 51106
Host Hotels
________
Wyngate
4716 Southern Hills Dr, Sioux City, IA 51106
$89.99 + tax
Hot breakfast, pool
Book online:  WAITING FOR CODE!!
Comfort Inn
4202 S Lakeport, Sioux City, IA 51106
Hampton Inn and Suites
5555 Sergeant Rd, Sioux City, IA 51106
$109 + tax
Hot breakfast, pool
Book online:  Hampton Inn Reservations
712-587-6984 Mention Siouxland Gymnastics.  Block ends 3/21/2022
Candlewood Suites
4720 Southern Hills Dr, Sioux City, IA 51106
$124.99
712-271-2222   Mention Siouxland Gymnastics
Pet Friendly
Holiday Inn Express and Suites
4723 Southern Hills Dr, Sioux City, IA 51106
$139.99 + tax
Hot breakfast, pool
Book online:  Holiday Inn Reservations
712-274-0100 Mention Siouxland Gymnastics.  Block ends 3/8/2022
Hard Rock Casino and Hotel
111 – 3rd St, Sioux City, IA 51101
$149 + tax
712-226-7600    Mention Siouxland Gymnastics
Marriott Downtown
901 – 4th St, Sioux City, IA 51101
$139 + tax
712-202-2700   Mention Siouxland Gymnastics
2022 Results
Team Resutls